News
August 2022: Have a good summer!!! Ashley will be in Edinburgh for the film festival from the 17th to the 20th August. Ashley and Keith will be in Helsinki for the Finnish Film Affair and the Love and Anarchy film festival from the 21st to the 24th of September. We're talking NOTHING HOLY and WE LOOK AFTER OUR OWN, so get in touch and set up a meet! Contact us on info@pinballfilms.com !
June 2022: So yesterday was Summer Solstice, and we've been busy during the long days. The whole Pinball team spent a grand time at the Cannes Film Festival, caught up with alot of our film partners and friends and generally were happy to see the Croissette and Le Petit busy! Ashley is going to be on the road this summer with THE 4AD RECORDS STORY documentary gaining momentum. Look out for him at Sheffield DocFest In late June, Galway Film Fleadh in July and Edinburgh IFF in August. Ashley and Keith will be in Helsinki in September for the Finnish Film Affair as things move forward on Nordic horror NOTHING HOLY, which will now shoot March/April 2023, in the snow of Finland and Norway. October 2022 will see the cinema release of Matt Hulse' SOUND FOR THE FUTURE, the perfect antidote to Danny Boyle's PISTOL drama, ably assisted by distribution guru Jonny Tull @ Tull Stories and with kind support from Screen Scotland's exhibition and distribution fund. Like I say, back to busy.
March 2022: Things are moving apace on NOTHING HOLY, with Ashley deep into casting the project in Finland and Norway. We have new co-production partners in Norway with Truls and Egil of EVIL DOGHOUSE, where we will also do our picture post. Ashley will be attending the ACE reunion in Gdansk, Poland in April and the whole gang will be in Cannes in May. We stand in support with the people of Ukraine!! Fuck you Putin!!
October 2021: NEWSFLASH!!!! SOUND FOR THE FUTURE will have it's North American premier at the Cucalorus Film Festival, North Carolina, on Sunday November the 14th. Go if you can. Well done to Mr Matt Hulse, Aconite Productions and everyone who worked on the film!!!
https://www.cucalorus.org/film/sound-for-the-future/
So Keith and Ashley just spent a week in Finland, three days at the very hospitable Finnish Film Affair industry event as part of the Love and Anarchy film festival (Hi Evelin, Mikael and Silje!), and then three days scouting in Joensuu in East Finland, with help from ace location fella Samuli and local legend Perttu. And a very successful trip it was too! (we won't mention the cost of a pint though...)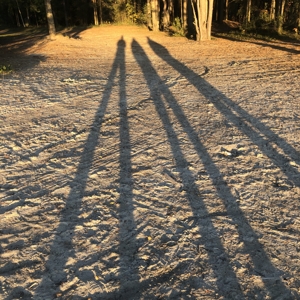 The trees were getting their fall colours and it really brought the world of NOTHING HOLY to life. Watch this space for more news!
August 2021: So only Ashley made it to Cannes, he liked the new Wes Anderson, especially the Benicio Del Toro sequence. He went to the Petit and ate a Caesar Salad, threw a Rosbif's party with the legendary Wendy Mitchell, and met some lovely people. He even swam on Palm Beach. But it was quiet without Stuart and Keith, who couldn't go, boo. September sees Pinball back out on the road as we recce our new feature film
NOTHING HOLY
in Finland and hang out at The Finnish Film Affair in Helsinki, meet up with Kimmo at SF Sound Studios, and generally start pre-pre-production on this superb horror rockumentary.
June 2021: CANNES! Looks like it is happening and Ashley and Keith will be in attendance from Thursday the 8th to Tuesday the 13th July. Please
EMAIL
us NOW if you'd like to meet to discuss our
SLATE
or coproduction opportunities in the UK.
May 2021: Welcome to our updated website. Check out the SLATE section to see what's new in the development vaults of Pinball Films. We're hoping to be out financing black metal horror feature NOTHING HOLY in the near future. Fingers crossed that Cannes happens, and Toronto, and Sitges, and, and, and.....Stay healthy friends! Best, Ashley, Stuart & Keith
December 2020: Well, you won't find any platitudes here about 2020. What a shitty year. Even the bright spots were shitty. Let's hope that 2021 is bit less shitty. Happy Shitty Holidays. Love Family Pinball xoxox
October 2020: So here is the NEWS! SOUND FOR THE FUTURE will premiere at the BFI London Film Festival on October 10th! This is a digital event and you can get a free ticket here until they sell out:
https://www.bfi.org.uk/london-film-festival/screenings/sound-future
Here is a link to the official trailer.
https://www.youtube.com/watch?v=h53N-XL1_YY
And the Facebook page:
http://facebook.com/thehippies
Here's a description of the film and some nice things said so far! Get on it good people!!
"An affectionate and hilarious reconstruction of the story of The Hippies, Britain's youngest post-punk band, formed by artist Matt Hulse and his siblings in 1979." (BFI London Film Festival) "Somewhere between memoir, re-enactment, pantomime, masque, ventriloquism and school reports, the 'truth' resides." Gareth Evans (Whitechapel Gallery) With limitless energy, wit and invention, SOUND FOR THE FUTURE is a free-wheeling, part-animated, kaleidoscopic musical investigation into a half-remembered, fractured family history, built on a solid love of the DIY post-punk aesthetic. Most of all it is a celebration of the power of creative resistance that unites young people across the generations. Featuring music from XTC, SLEAFORD MODS, GANG OF FOUR, THE STRANGLERS, OUGHT, FRED CHAMPION, LUFT, GENERATION RIOT, HELLHOUSE, EDWARD ELGAR and THE HIPPIES, accompanied by an original score from SIMON FISHER TURNER. SOUND FOR THE FUTURE features the last performance by the sadly departed Andy Gill of GANG OF FOUR.
September 2020: So COVID came and washed a great deal of our plans out to sea. BUT The Hippies film, now titled SOUND FOR THE FUTURE has been completed! A kaleidoscopic trawl through a part remembered family history , director MATT HULSE has made a moving, experimental and brave film that is part musical, part art, part performance and POST-PUNK!!! And tomorrow there will be some big news.....
October 2019: It's been a busy 12 months at Pinball Mansions! Keith Bell and Stuart Wright have joined the company full time, providing producing and development skills to the family, meaning that we are growing the slate of films we are working on and the ambition of the movies we plan to make! ÜBERMAN is set to shoot next Spring 2020, with Ashley directing, Keith producing and Stuart Wright, well writing! A Co-Production with Ferenc Pusztai at KMH Hungary, and with support from producer Deepak Kumar of Mumbai, the film is a science fiction set in the near future in a British trailer park. Watch this space for cast announcements in the New Year.
THE HIPPIES: PUNK ROCKED MY CRADLE is close to completion, so watch out for a festival premier sometime in the Spring/Summer next year. This hybrid punk rock documentary by Matt Hulse has taken a long time to come to fruition and we thank our finance partners Creative England and Screen Scotland for their patience and continued support and our co-producer Aconite Productions in Glasgow for being super stellar! Good things come to those who wait...
October 2018: There's been lots of activity on BEAR with Keith Bell and Ashley Horner readying themselves for a trip to LA to attend the American Film Market (1st - 7th November) and meet a number of possible partners/financiers for the film. A Halloween reunion with Mr. Sean Conway, who has been busy on Season 5 of RAY DONOVAN is also on the cards. Ashley will be in ROME for
MIA
so feel free to get in touch to arrange a meeting.
Things have been busy in the world of THE HIPPIES: PUNK ROCKED MY CRADLE, with a unique live performance of the film taking place in Glasgow, Scotland in August of this year. Yep, Matt Hulse went out and performed the film live as a stand up show in the West End of the city, at
THE DOUBLET
with support from the
Twelve Hour Foundation
, Editor Nick Currey, Vicky M and even yours truly playing MC Headmaster. The whole event was shot by Ian Dodds and Holger Mohaupt, and happened on Matt's 50th Birthday. The last month has been spent in the edit and things are moving along a pace. More news when we have it!
In September Ashley successfully completed
Trans Atlantic Partners
after week long workshops in Berlin and Halifax, Nova Scotia. This prestigious roducer training course brought together producers from Canada, the USA and Europe to develop their films and their business, creating a fresh network of Trans Atlantic Talent. Kudos to jan and Dina for a great two weeks!
May 2018: Welcome to the pre-Cannes update. BEAR is in good shape and we have been joined in the quest to finance and package the film by Producer Keith Bell, who cut his teeth working with Neil Marshall on the seminal DOG SOLDIERS and later the Michael Caine starrer HARRY BROWN. The script is locked and Keith, Stuart and I will spend the 9th to the 15th of May wending our way up and down the croissette letting people know how wonderful and unique BEAR is and why they must back it now!
FInance is now closed on THE HIPPIES: PUNK ROCKED MY CRADLE and Matt Hulse and I have begun to plan the shoot and will be going into full on production in the summer. Support has been provided by Creative England and Creative Scotland. We'd like to thank Richard Holmes, Mark Thomas and Paul Ashton for backing Matt's unique brand of Hybrid Documentary, which is a brave, but wise move for sure! Aimara and Lorna at Aconite Productions in Scotland remain our trusted co-producers and everyone is excited that we have finally begun to make the film.
Finally we will have news to announce regarding a possible award for Pinball Films. Every year Creative England announces the 50 most exciting, innovative and disruptive individuals and companies across England, working in the fields of games, TV, film and digital media. Much to our surprise and delight it appears that we are one of the shortlisted CE50! More news to follow when we have it, though it looks like Ashley will have to get to London to pick up the silverware.
June 2017: What excitement do we have for this years bi-annual update??? Pinball Films are still in the business of cinema, pop promo's and documentary film. THE HIPPIES is shooting and slowly evolving into a fascinating and challenging film about punk/thatcherism/family and the politics of having a decent haircut. Director, Matt Hulse, is a grafter, shooting in China, Mongolia, North Korea and.....Bristol!! The other Matt, Matt Stokes wielded a steadicam operator and all of his mediaeval LARP'ing genius to create a promo for Richard Dawson, with a cast of thousands!!! Watch the promo for
OGRE here
. Sean is still in LA LA Land, being a rock star screenwriter on Johnny Rotten's street. Karl is now the King of the Columbia Road and working for all his heroes of cinema, including Xavier Dolan and James Cameron Mitchell. When's Larry Clark??? And I my humble friends have continued to develop the Nordic horror feature that will be my next film, now titled simply BEAR. Stuart Wright and I had a hugely productive winter and we now have the screenplay sorted, just the finance to find now....
OBJECTS TO SEE FURTHER
is the new film from artist Matt Stokes, produced by Pinball Films. We follow the lives of four Tyneside pioneers who are all linked to the year 1871, when Robert Newall completed the building of a great telescope in his back garden at Ferndene in Gateshead.
Our story begins with a visit to the Observatory now housing the large Refractor Telescope that is on a hill in Pentelli overlooking the megalopolis that is Athens. The only words above the door that are not in Cyrillic text are NEWALL. The narrative moves back to 1871 and an agitated Newall discusses the failing of Cooke & Sons in the eight year delay to complete his telescope. John Burnett leads the strike against William Armstrong to get the 9 hour day rule passed.
James Renforth, world champion rower, reflects on existentialism and the nature of his celebrity.
Newall wrestles with a telegraph machine that speaks in a strange code. Joe Wilson, legendary music hall performer sings in a simple pub, of the fight for workers rights and the death of the great rower Renforth.
We return to the site of where the great telescope was built, to the front room of a suburban semi now standing there and our circle is squared.
A time slice of 1871. Watch the film
HERE
.
Summer's coming to a close and the Fall is fast approaching, or Autumn as we like to call it here in the UK. So what excitement can I give you on the sadly neglected site of Pinball Films? I'd love to be able to report that we are shooting a new film soon at Pinball Mansions, and we are!!! THE HIPPIES: PUNK ROCKED MY CRADLE is a new documentary film from director Matt Hulse, telling the story of Britains youngest punk band back in 1979. Aged 7, 10 and 12 years old, the Hulse siblings recorded a number of songs gathered together on the cassette only album 'A SOUND FOR THE FUTURE', played gigs in Cambridge squats, lived briefly on the set of Derek Jarman's JUBILEE and were managed by their mother, the svengali-like figure, Ruth Pendragon. The film has been backed by Creative England and Creative Scotland and will begin shooting soon. Catch the one minute pitch film here:
https://vimeo.com/80036488
Oops We've been a bit slack on the news front in 2015 and now it's 2016, so here's a quick rundown of the years highlights. Ashley completed
EAVE
, and is now a fully fledged member of the European Audio Visual Entrepreneurs network! He attended three workshops in Luxembourg, Skopje and Strasbourg with screenwriter Clare Perry and their feature project BLIGHT (More news of which later). Abdul and Carmen moved on to pastures new in Berlin, and Kay Donnelly joined as a trainee production co-ordinator, graduating with honours on the Matt Stokes' film OBJECTS TO SEE FURTHER which shot in Athens and some of the North East's most historic buildings. Set in 1871 it follows the lives of four North East visionaries and features two songs by local legend
Richard Dawson
as singer Joe Wilson.
November saw Ashley and Stuart head to Trondheim, Norway to start recce's for supernatural horror HIDDEN FOLK, which is aiming to shoot next year. Thanks to Petter and Kjersti for looking after us!
Rona Marks' OBJECTS ATTACK was released by
JUKEBOX KINO
, visit here to buy your DVD!
January 2015: HNY all! Ashley is invited to participate in 2015's intake of EAVE producers taking place in Luxembourg, Macedonia and France throughout 2015. Trainee producer Abdul Twebti cements his place in the Pinball Loft by making great tea and understanding an excel spreadsheet. JUKEBOX KINO readies itself for it's second film release.....more to follow!

December 2014: Ashley takes HIDDEN FOLK to the Les Arcs Co Production Village, where he finishes sixth in the biathlon but still beats Conor Barry. Lots of productive meetings for the film and an invite to Frontieres in Brussels follows.

October 2014: Pinball Films moves into new offices in The Loft at 5 Charlotte Square and welcome new Head of Distribution, Carmen Gray, of Dazed & Confused, to lead the charge on the launch of JUKEBOX KINO.

September 2014: JUKEBOX KINO, our new subscription/distribution initiative launches by sponsoring the Berwick Film Festival. A fine night of 7 inch vinyl spun by DJ Stagger Lee Fisher keeps everyone smiling. That and the real ale...

August 2014: Sean bobs off to the other side of the world for meetings, Ash works magic in Norway and Karl sets up camp in Sheffield. This month is going to be mental... but good mental. Sad news is that its the end of an era for Star and Shadow. We have seen so many amazing films there. Here's to the next chapter.

July 2014: Karl in Costa Rica, Sean in LA, Ash in Donny... all with good reason.

May 2014: Ash makes huge strides in Cannes for "Hidden Folk'. Followed by mint news as the feature film Karl Line Produced 'Hyena' is announced as opening film of Edinburgh Film Festival.

April 2014: Sad news as it appears our precious Star and Shadow cinema may have to relocate from its home of 8 years.

March 2014: 16 weeks of filming commences on 'Glue'.

February 2014: Exciting times. Seany up to loads of productive trouble, Karl in floods and knee deep in 'Glue', Ash up to his eyes in THE HIPPIES goodness... and Pinballs custom made Digital Bolex arrives. Tasty.

January 2014: Happy New Year!! After co-writing the series, Pinball brother Sean Conway's series gets a Golden Globe for Ray Donovan! "It all starts with the script: it's not worth taking myself away from my family if I don't have something I'm really passionate about." Steven Spielberg. See more HERE.

December 2013: Pinball produces slate of Music Videos and other promotional material for Maximo Park. Directed by Matt Stokes working with incredible DP Kyle Heslop the videos can be seen HERE and HERE. Enjoy.

November 2013: Horner represents Pinball and Radio Film at IDFA in Amsterdam.

November 2013: Screenwriter Stuart Wright of Pinball Films' HIDDEN FOLK, made a pilgrimage to Norway in October to attend RAMASKRIK Horror Film Festival in Oppdal and look at locations for the forthcoming feature.

October 2013: Pinball have been busy producing a promo for one of the North East's biggest bands. Matt Stokes directs and you'll be able to see it soon!!

October 2013: Martin Radich has just completed principal photography on his new film NORFOLK for the iFeatures2 scheme through Creative England. We're hoping it's a huge success and leads to us producing his next film DANDELION!

September 2013: Karl took his Head of Production hat off and his Line Producer hat on for Warp Films. After playing Cannes Film Festival and Edinburgh International Film Festival it now goes to screens Nationwide before heading to SXSW... For Those In Peril is released on October 4th. Look out for this "striking film from a valuable new talent" at your local independent cinema. In the mean time catch the trailer here

September 2013: OBJECTS ATTACK! has won Best Experimental Feature Film at the Harlem International Film Festival! Pinball would like to congratulate all the cast and crew for making such a wonderful film, especially director Rona Mark for her tireless pursuit of all things groovy!!!

August 2013: HIDDEN FOLK, a new supernatural horror film from Pinball, written by Stuart Wright, has attached Johnny Kevorkian (The Disappeared) to direct. Ashley, who is producing the film, took the project to ZADAR FILM FESTIVAL in Croatia, to meet with fellow producers, distributors and financiers.

July 2013: Ashley was honoured to be on the International jury of the Palic European Film Festival in Serbia. The jury awared the Golden Tower to Alex van Warmerdan's fine film BORGMAN. A good time was had by all.

May 2013: Ashley will be at the Cannes FIlm Festival with Rona Mark's OBJECTS ATTACK! a lofi/scifi/blaxploitation beat movie from the 19th - 25th MAY lots more info here http://www.objectsattack.com/ The film is being handled by SOUL FOOD INTERNATIONAL SALES and you can find them at the GRAND HOTEL, Entrance Flamand, #1 floor - Office: +33 493 680431

Karl will hopefully make it over for the premier of Paul Wright's FOR THOSE IN PERIL which he Line Produced for Warp Films. It screens in Critics Week on Sat 18th May http://warp.net/films/for-those-in-peril . Come and find us for a chat and and a drink....

April 2013: Post-Production is completed on Rona Mark's epic lo-fi, sci-fi, blaxploitation, beat movie, OBJECTS ATTACK! see the trailer here http://www.objectsattack.com/ A feature film on Super 8mm!!

Ashley returns from an eventful ACE Producers reunion in Helsinki. The world of European cinema is put back in balance, after we leave. http://ace-producers.com/

March 2013: RIVERSIDE: Songs and Stories is selected to take part in Sheffield Doc Fest 'Fast Track to Features' initiative. http://sheffdocfest.com/view/fasttracktofeatures

February 2013: The edit begins on documentary 'RIVERSIDE: Songs and Stories' after a successful Indie Go Go campaign raises much needed production finance. http://www.indiegogo.com/projects/riverside-the-true-story-of-a-truly-independent-music-venue

January 2013: Ashley heads to Rotterdam's Cinemart to search for exciting new talent and screen the final cut of Rona Mark's OBJECTS ATTACK! a lofi scifi blaxploitation beat movie shot entirely on B&W Super 8. Screening @ The Dark Room, 3rd Floor De Doelen @ 13:30 on Sun 27th Jan. Contact us for an invite.

October 2012: Sean flies off to LA to write on a brand new show from Showtime 'Ray Donovan' which will star Liev Schreiber...

June 2012: Filming on Matt Stokes short film 'Two Thieves' completed. Ash gets his shack back. Into post.

June 2012: Nivarna, Pearl Jam and David Bowie.. the names keep coming... http://tyneandwear.sky.com/news/article/22804

June 2012: Fugazi, Mercury Rev and Henry Rollins all lined up to talk.. now its time to raise some cash... http://www.indiegogo.com/rivfilm?c=gallery

May 2012: Pinball Films can announce they will be producing a documentary on Newcastles Riverside music venue. Nirvana, Fugazi, Sonic Youth, Pixies, Crane and David Bowie all played at the RIVERSIDE, a club for the youth by the youth. Time the story was told...

May 2012: So now you know what Ashley was up to in Cannes.. after he got followed.... http://thequietus.com/articles/08932-cannes-film-festival-2012-novice-filmmakers-experience

May 2012: Produced by Pinball Films, 'Cancer' is the new video from Director Sean Conway (Hit and Miss) for the brilliant Mik Artistiks Ego Trip. Ladies and Gents, I introduce the Cancer dance. http://www.youtube.com/watch?v=eCpYHDL0D1U&feature=youtu.be

May 2012 Inspired by our very own Sean Conway's 'Kings of London' (https://vimeo.com/25854953)? ... or creative coincidence... Who knows, but props to both, Bob Harlow's video looks real fresh... http://www.somesuchandco.com/home/feel-the-love/

May 2012: Here is what we are listening to today... SERIOUS!! http://pitchfork.com/reviews/tracks/13615-heal-demo/

May 2012: Always nice to have other people talking about their experiences with us: http://www.sunderlandecho.com/news/education/video-shoot-for-drama-children-1-4476322#

May 2012: Pinball Films will be in Cannes from 17th - 22nd May with two new projects. Expected: drinking, chatting and rain.. no way...

April 2012: The start of the press interest in brilliantlove writer Sean Conway's new series starring Chloe Sevigny... http://www.independent.co.uk/arts-entertainment/tv/features/heads-up-hit-and-miss-7645785.html

April 2012: Karl in New York, Sean in LA, Ashley in a shack in Ovingham... we are taking the world by storm.

April 2012: brilliantlove goes down a storm at Titanic Film Festival. Sold out, a Q and A where Ash got so many questions they ran out of time and meetings with some brilliant people who we hope to see again soon.

April 2012: The genius that is Paul Abbott talking a lil summit summit bout Pinball Films Sean Conway and new Sky Atlantic series 'Hit and Miss' http://blog.mipworld.com/2012/04/liveblog-paul-abbott-shares-hit-miss-producer-tips/

April 2012: Sean will be in LA for meetings from 4th - 14th April contact info@pinballfilms.com to arrange meetings.

April 2012: Exciting news coming out of Asian with regards to 'brilliantlove' AKA 'The Orgasm Diaries'... more coming soon!

April 2012: brilliantlove has its Hungarian Premier at Titanic Film Festival. After complications last year they invited us again! Ashley will be present from 16th - 20th April. http://www.titanicfilmfest.hu/2012/Brilliantlove_ang.php

April 2012: Karl will be in New York attending Tribeca Film Festival and will be around for meetings from 20th April - 6th May. Get in touch if you are around.

March 2012: Rona Mark of the Pinball Films stable has completed filming on her amazing new film 'Objects Attack', having seen a rough cut I can say it is worth investing in, its so fresh and so clean clean. Investment can be as little as $10... back it here: http://www.kickstarter.com/projects/2000938371/finishing-funds-for-objects-attack-a-super8-featur/posts/206001

March 2012: Interesting meetings with some of London's finest, Brand Funding comes to us, who would have thought it?!

March 2012: Pinball invest in development prototype of 2k Bolex camera, it will be lovely. http://www.kickstarter.com/projects/joedp/the-digital-bolex-the-1st-affordable-digital-cinem

March 2012: Ashley will be in Bucharest from 29th March -3rd April for ACE Producers Network Reunion

March 2012: Written by Sean Conway and starring Chloe Sevigny, here is the trailer for 'Hit and Miss', due to premiere on Sky Atlantic in May 2012 http://skyatlantic.sky.com/hit-and-miss/hit-and-miss-trailer?DCMP=SNT

March 2012: Pinball Films shoot of music video for The Blacklight goes swimmingly, nine burlesque artists and a cleaner, you cant ask for much more than that. Video now being held back until late July 2012

February 2012: Domino Recordsrelease Bill Ryder Jones video "Give me a name", directed by Sean Conway, cinematography by Kyle Heslop and Produced by Pinball Films. Here for your viewing pleasure. http://www.youtube.com/watch?v=v24A0RsFSyk&ob=av2e

February 2012: Pinball Films have beaten off competition to produce the music video for The Blacklight song "Older Women". Directed by Sean Conway and shot by Kyle Heslop, filming will take place on the 2nd and 3rd March, for more details contact promos@pinballfilms.com

February 2012: Domino Records are set to release Bill Ryder Jones music video "Give me a Name" on both sides of the atlantic. The video will be online by the middle of February (Link to follow).

February 2012: A British GUMMO? That is a favourable review of 'The COnundrum', Pinball's new film by Martin Radich! http://www.quietearth.us/articles/2012/02/Teaser-for-Martin-Radichs-rabbit-killing-THE-CONUNDRUM

January 2012: Sean Conway "Fucking Genuis" Screening on 11th January SOLD OUT! http://www.ica.org.uk/?lid=31234. After filling the 250+ seater cinema in the Institute of Contemporary Arts (ICA) people were standing at the back and sitting in designated (fire escape safe) aisle seats! An unbelievable turn out. Thanks to Kate Taylor for hosting the Q and A and to everyone who attended and enjoyed the FabricLive DJ set by Ali B in the bar afterwards. Much love must go to Geoff at Fabric, all at Thinksync, Philip and Chloe at LSFF and all that the ICA for making this such an event.

January 2012: The newest addition to the Pinball Music Video catalogue. Lo-fi and brilliantly creative one man band Midbit created the new video for Mr Bn Sir "cameras dont click", a track that is currently being rocked hard by 6 Music. Check it out here....http://www.youtube.com/watch?v=M4FBCc05i_k

December 2011: After some great press surrounding the film Screen International have run a wonderful piece on 'The Conundrum' http://www.screendaily.com/news/uk-ireland/pinball-plans-transmedia-release-for-radichs-the-conundrum/5035794.article

December 2011: "brilliantlove" plays in the Panorama section at Camera Image Cinemtography festival in Poland http://www.pluscamerimage.pl/pc2010.php?dzial=3468&film=463&lang=en. A wonderful nod to the exceptional work done on the film by Simon Tindall who after an invitation to attend, was there to see the sell out crowd enjoy the screening.

November 2011: Sean Conway has been invited by the prestigious London Short Film Festival (LSFF) to screen a retrospective of his work to date at the ICA. Its a huge honour considering former recepients of a retrospective include Andrea Arnold and Richard Kern. Tickets will be available from early January. http://shortfilms.org.uk/events/2012-01-11-sean-conway-fucking-genius

November 2011: Ashley has been invited to Les Arc co-production market with Sean Conways debut feature Young Gods, its an honour to be invited, fingers crossed we find some like minds.... http://www.lesarcs-filmfest.com/2011/pro-events/?p=coproduction

November 2011: Domino Records premiere Sean Conways music video for Bill Ryder-Jones's "Give me a name" off his critically acclaimed album "IF". The screening took place at the Aubin Cinema and played alongside videos by artist Jenny Coan. Bill and Domino were delighted with the results, we can only hope they want to invest again! The video will be touring the UK's cinemas with the album and will be available to view online before the year is out.

November 2011: Pinball Films latest feature "The Conundrum" written and directed by Martin Radich and starring the brilliant Trevor Fox received its World Premiere at the 56th Cork International Film Festival. Screened in the astonishing Triskil Christchurch Arts Centre Martin and Ashley were both present to see a fantastic turn out.

October 2011: Pinball Family made a trip out to the Berlin Porn Film Festival where The Orgasm Diaries AKA brilliantlove was the closing film. Combined we watched over 150 hours of porn/erotic art, the highlight of which was an 11:30am screening of "Fucking Different XXX"... not any sort of before breakfast material. However, all The Orgasm Diaries screenings sold out with people sitting in the aisles, and even standing for the entire film. The Q and A's were also very interesting! http://www.pornfilmfestivalberlin.de/pffb_2012/en/?p=2149

October 2011: We will be making a video for Bill Ryder-Jones track "Give me a name" off his highly anticipated debut album entitled "IF". Directed by Sean Conway we will be filming over 2 days and will be delivering the final video on the 9th November ready for its launch in London on 15th November at Aubin Cinema. A four week turnaround is a luxury compared to a week!

September 2011: Our first pop promo "Wolph" has won the 2011 Sound and Vision award and in doing so we have been awarded the commission to make a video for Domino Records. More news to follow and you can view the video here: http://vimeo.com/29125548

September 2011: Pinball Films most recent feature "The Conundrum" directed by Martin Radich will receive its world premiere at The 56th Corona Cork International Film Festival in November, more details here: http://www.corkfilmfest.org/2011/films/44/the-conundrum

September 2011: We decided it was time to dip our toe in the water of pop promos and not to do things by halfs, we decided to do a video on the Monday and by the Saturday we had created and delivered a music video for Newcastle based artist Ajimal and his song "Wolf". Directed by Sean Conway and shot by Kyle Heslop the results can be found here and we hope it will lead to further commissions: http://vimeo.com/29125548

August 2011: Ashley attends Zadar Film Festival in Croatia supporting brilliantlove and Alex and Her Arse Truck screenings. He also meets some great new friends. brilliantlove is invited to appear at Berlin Porn Film Festival in October. http://www.pornfilmfestivalberlin.de/pff_e/

August 2011: After purchasing the TV rights to 7 territories worldwide, The Orgasm Diaries AKA brilliantlove is now beeing screened on The Sundance Channel http://www.sundancechannel.com/films/500639192/

July 201: brilliantlove is now on sale on itunes: http://itunes.apple.com/gb/movie/brilliantlove/id448765269

July 2011: brilliantlove AKA The Orgasm Diaries and Alex and Her Arse Truck are invited to Zadar Film festival in Croatia in August. We have also been invited to pitch our next project http://www.screendaily.com/news/europe/new-genre-pitching-forum-coming-to-croatias-zadar-festival/5031043.article

June 2011: The below link is to an interview by Laurence Boyce with Martin Radich, who is part of the Pinball Films family and currently working with us on the film's THE CONUNDRUM and DANDELION. http://www.experimentalconversations.com/articles/742/the-disparate-and-the-boiling-mad-the-films-of-ma/ We also suggest you check out Martin's last film, CRACK WILLOW.... http://www.mijnwinkel.nl/shop20742/productlist4

May 2011: brilliantlove AKA The Orgasm Diaries goes on sale on DVD in US through all major online retailers.

April 2011: brilliantlove sells out BAFICI screenings in Buenos Aires

April 2011: brilliantlove becomes first film EVER to be voted back to Tyneside Cinema. Went down very well, so did the ice pops...

28th March 2011: 'brilliantlove' AKA 'The Orgasm Diaries' now available for pre-order in the US of A http://www.amazon.com/Orgasm-Diaries-Arabella-Arnott/dp/B004O26LD0/ref=sr_1_3?ie=UTF8&s=dvd&qid=1302252019&sr=8-3

22nd March 2011: 'brilliantlove' screening at Tyneside Cinema on Tuesday 12th April is to be supported by a photographic exhibition from the film that will run from 1st - 14th April in Tyneside Bar on third floor.

17th March 2011: Liam Browne who plays Manchester in brilliantlove will be returning to Tribeca for a second successive year with the feature film Lotus Eaters, Congrats to all involved.

12th March 2011: 'The Orgasm Diaries' (aka 'brilliantlove') will be on sale on DVD in North America from the 17th May 2011... http://www.amazon.com/Orgasm-Diaries-Arabella-Arnott/dp/B004O26LD0/ref=sr_1_1?ie=UTF8&s=dvd&qid=1299843083&sr=8-1

9th March 2011: 'brilliantlove' is invited to play in the 'Europe Today' section at the 18th Titanic Film Festival in Budapset, Hungary. Ashley has been invited and will be there to represent. http://www.titanicfilmfest.hu/2011/index_en.php

7th March 2011: With a landslide victory over 'Back to the Future', 'The Kings Speech' and many more... 'brilliantlove' becomes the first film to be voted back to Tyneside by popular demand. It will be playing on Tuesday April 12th at 8:45pm... look out for events surounding it. http://www.tynesidecinema.co.uk//whats-on/films/bring-a-film-back

29th February 2011: We have known it for many years, now the world is going to know just how good 'brilliantlove' writer Sean Conway is when 'Hit and Miss' the TV series he has written with Paul Abbott launches on Sky Atlantic... http://www.nxtbook.com/nxteu/bskyb/skyentertainment2011/index.php?startid=61#/60

25th February 2011: 'brilliantlove' voted by Cosmopolitan Magazine as one of the top 20 films (slide 14 of 22) to watch on a girls night in, who are we to argue with them! http://www.cosmopolitan.co.uk/lifestyle/the-ultimate-dvds-for-girls-night-in-111226

14th February 2011: 'brilliantlove' to you all. It was announced today that 'brilliantlove' has been selected to play in the Nocturnal section of the prestigious and huge Beunos Aires International Festival of Independent Cinema (BAFICI)... http://www.bafici.gov.ar/home/web/en/about/index.html

7th February 2011: Brilliantlove is one of four films selected to be part of New British Cinema Quarterly box set! Purchase here: http://www.amazon.co.uk/British-Quarterly-Greater-Skeletons-brilliantlove/dp/B004EMS0PC/ref=sr_1_1?ie=UTF8&s=dvd&qid=1299842026&sr=8-1

10th January 'brilliantlove' release on DVD through Amazon, Play, HMV and all other mint retailers in the UK.
http://www.amazon.co.uk/Brilliantlove-DVD-Nancy-Trotter-Landry/dp/B004EMRZLW/ref=sr_1_1?ie=UTF8&qid=1294660516&sr=8-1

Nancy Trotter Landry named in top 10 performances of 2010 by leading Guardian Film Critic Peter Bradshaw... http://www.guardian.co.uk/film/filmblog/2010/dec/01/peter-bradshaw-best-movies-2010

Mini Yorkshire Tour Complete after playing Leeds Hyde Park Picture House,and Sheffield Showroom with Q and A with writer and director.

16th November: brilliantlove screened at Tyneside Cinema in Newcastle sold out 8 hours beforehand!!!

'brilliantlove' nominated for the Raindance Award for Best British Feature Film at this years prestigious Moet British Independent Film Awards (BIFAS).

Release information: IFC change name and released The Orgasm Diaries (aka brilliantlove) in US on VOD on 3rd November and in Cinemas on 5th November 2010 starting in Hollywood.

Availilabe on VOD from: http://www.twondemand.com/movies/the-orgasm-diaries

Soda Pictures released brilliantlove in UK cinemas nationwide on November 12th 2010. Having already played at London Renoir, London Genesis, Newcastle Tyneside, Edinburgh Filmhouse, Glasgow Film Theatre, Leeds Hyde Park, Sheffield Showroom and Norwich City. Screenings coming up include:

RichMix (London) Fim Theatre (Stoke) and Quad (Derby).

Merchandise: brilliantlove T-shirts are now available to buy online and official posters are also available by contacting us direct.

Festival Life: brilliantlove had its world Premiere at Tribeca Film Festival and made its European debut at the Edinburgh International Film Festival. Since then other screenings have included Athens, Calgary, Hoff, Philadelphia, Cucalorus, Sao Paulo, India International, Norrkopings, Gijon and New British Film Festival in Moscow.

All festival screenings so far have totally SOLD OUT!!